A key round of negotiations last week, ending with both Iran and the West confirming significant progress toward a negotiated settlement of their long-standing row, appears all but forgotten this weekend, as AIPAC holds its annual Police Conference with an eye squarely on a US attack on Iran.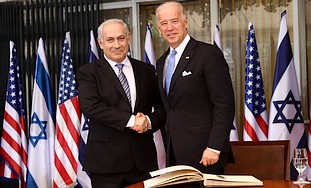 The conference opened with former top Obama aide Dennis Ross lashing the negotiations, insisting that the only sort of deal that should even be considered is an immediate acquiescence on all issues by Iran, and that "step-by-step" negotiations are unacceptable.
Former Bush aide Elliott Abrams sought to take that line one step further, insisting Iran would never agree to a deal no matter what and that sanctions are a failed system. Both agreed that 2013 would be the "decisive year" for the Iran situation.
The hope among conference-goers is that Vice President Joe Biden, the highest ranking official scheduled to speak this year, is going to answer "concerns" about a sudden and unwelcome (among them at least) outbreak of peace with Iran, and will lay the groundwork for more administration bellicosity toward Iran with a promise to reiterate America's seriousness about the "military option."