Though the people who were actually at the Kazakhstan negotiations between Iran and the P5+1 were upbeat after the talks, with Iranian officials hailing them as a breaking point, Israeli Prime Minister Benjamin Netanyahu condemned the talks again today, insisting Iran would never accept any offers.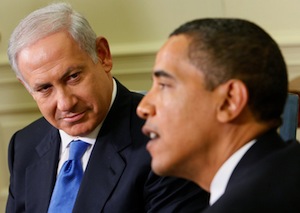 Netanyahu insisted that Iran has flouted "all international standards" and demanded that the P5+1 threaten to attack Iran, saying that only military means could ever force Iran into giving up their civilian nuclear program.
Though Iran has refused to give up its civilian program, it doesn't seem that is the demand of the international community any longer, however, and today's talks suggest that the Western goal is to convince Iran to reduce the current size of its enrichment program in return for a reduction of sanctions, something both seem open to.
The real test is if this will be "good enough" for Israel, particularly for Netanyahu, who has been demanding a global war against Iran for years. The US negotiating team at the Kazakhstan talks isn't even returning straight to the US, but is instead stopping off in Israel on the way home to try to convince Israel that negotiations aren't the end of the world. All indications are it will be a tough sell.