At least 27 people were killed and scores of others were wounded today when a suicide motorcycle bomber detonated at a Shi'ite mosque in the northwestern Pakistani town of Hangu.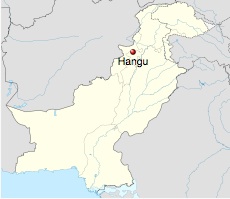 The attack targeted worshipers leaving the Shi'ite mosque, but also caused a number of Sunni casualties as their worshipers were heading to the nearby Sunni mosque, which is on the same street.
The blast also damaged several nearby shops and some of the casualties were from customers at those shops. The victims were rushed to hospital but many are gravely wounded, so the death toll could rise further.
So far no group has claimed credit for the attack, but strikes against Shi'ites has become increasingly common across Pakistan, with multiple Islamist militant factions operating exclusively around attacking the Shi'ites, who they consider heretics.