Egyptian protesters continue to defy curfew orders, clashing with police in the capital city of Cairo as thousands continued to riot in the streets of the Suez Canal cities in which a "state of emergency" has been declared.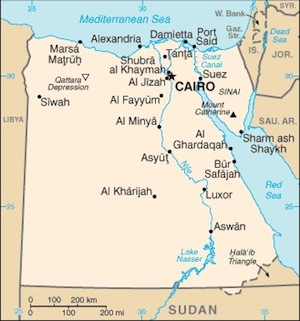 Protesters in Port Said condemned the overnight curfews, noting that their city's economy is driven by tourism, and that this was difficult to maintain if the city is being forced to shut down at 9 pm every night.
Army chief Abdel Fattah al-Sisi insisted the protests in the Suez cities have brought the nation to the "brink of collapse," insisting troops are being deployed to those cities to ensure that the canal is kept running.
Scores of protesters were killed over the weekend, with initial rallies on the anniversary of the Egyptian Revolution gave way to huge violence on Saturday after the government announced the plan to execute 21 people related to Port Said's 2012 soccer riot. The funerals for those slain in Saturday's violence sparked more clashes with police, and the announcement of the curfew.
Last 5 posts by Jason Ditz