What started as rallies commemorating the second anniversary of the Egyptian Revolution on Friday has turned into several days of clashes, with scores slain and well over 1,000 wounded, and three provinces in a "state of emergency" with mandatory 9 pm curfews.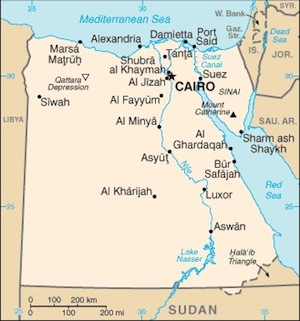 The first violence saw attempts by opposition parties to rally the demonstrators to attack government offices, accusing the ruling Freedom and Justice Party (FJP) of "stealing" the revolution from them.
Things got dramatically worse on Saturday, with protesters still in the streets when a court announced that 21 defendants in the Port Said soccer riots had been sentenced to death, sparking massive violence in the key coastal city. At least 44 were killed Saturday.
On February 1, 2012, at least 79 people were killed and over 1,000 wounded in a soccer riot, when the local Al-Masry team's fans stormed the pitch, attacking fans and players affiliated with Cairo's al-Ahly SC. At the time, officials blamed remnants of the Mubarak regime for firing up the crowd, noting that the incident happened on the anniversary of the attack on Tahrir Square protesters.
The trial was extremely polarizing, and with all the people sentenced to death fans of the local team, there is a sense in Port Said that the verdict was part of a string of decisions alienating them, and that the verdict was more political than evidentiary.
Violence in Port Said continued into Sunday, when tens of thousands of mourners took to the streets after the funeral of those slain in Saturday's protests, and ended up clashing with police. Seven were slain and 630 more wounded. President Mohamed Morsi announced the curfews today in an emotional press conference, vowed harsher measures if the violence continued.