A Yemeni cabinet minister on Tuesday criticized the US's drone war in Yemen, a tactic that is supposed to eliminate alleged al-Qaeda threats, but which often kills civilians and generates outrage among the local population.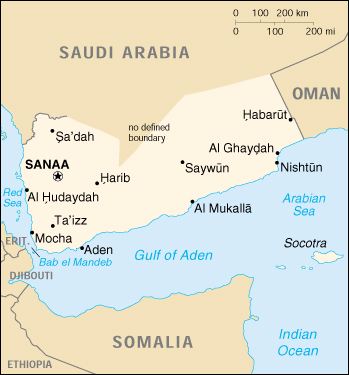 "To have an innocent person fall, this is a major breach," Yemeni Human Rights Minister Hooria Mashhour told Reuters.
"I am in favor of changing the anti-terrorism strategy, I think there are more effective strategies," she said, that "can be applied on the ground without harming civilians and without leading to human rights violations."
Washington bribes the Yemeni regime of President Abd-Rabbu Mansour Hadi with money and military aid in exchange for allowing the US to relentlessly bomb the country with drones.
The Washington Post reported last month that the Yemeni government as a policy tries to conceal when US drones kill civilians, instead automatically and systematically describing the victims as al-Qaeda militants, regardless of the truth.
It is rare for members of the Yemeni government to speak out against the drones, but a member of parliament similarly denounced the drone war last October.
"At first people didn't talk, but after Radaa, things have changed," said parliamentarian Ali Abd-Rabbu al-Qadi, referring to a drone strike in September that killed 12 civilians in the town of Radaa. "These air strikes prepare the ground for al Qaeda and terrorism."
The expanding drone war in Yemen, which often kills civilians, does in fact cause blowback and help al-Qaeda recruitment – as attested to by numerous Yemen experts,investigative reporting on the ground, polling, testimony from Yemen activists, and the actual fact that recent bungled terrorist attacks aimed at the US have cited such drone attacks as motivating factors.
After another September drone strike that killed 13 civilians, a local Yemeni activist told CNN, "I would not be surprised if a hundred tribesmen joined the lines of al Qaeda as a result of the latest drone mistake. This part of Yemen takes revenge very seriously."
"Our entire village is angry at the government and the Americans," a Yemeni villager named Mohammed told the Post. "If the Americans are responsible, I would have no choice but to sympathize with al-Qaeda because al-Qaeda is fighting America."
Many in the US intelligence community also believe the drone war is contributing to the al-Qaeda presence in Yemen. Robert Grenier, who headed the CIA's counter-terrorism center and was previously a CIA station chief in Pakistan, told The Guardian in June that he is "very concerned about the creation of a larger terrorist safe haven in Yemen."
"We have gone a long way down the road of creating a situation where we are creating more enemies than we are removing from the battlefield," he said regarding drones in Yemen.