Islamist fighters calling themselves the "Battalion of Blood" launched a surprise attack on a heavily guarded natural gas plant in Eastern Algeria early this morning, capturing 41 hostages, all of them foreign nations, and many from Britain, France, and the US.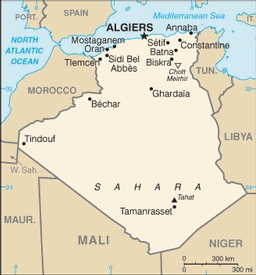 Officials are couching it as "terrorism" and promising a retaliatory response, but the group involved in the attack is making it no real secret that this operation is, in their eyes, an extension of the French invasion of Mali over the weekend, simply the transition of the already regional war into a fully global crisis.
Exactly how the attackers managed to overrun the facility so easily is unclear, as is the fate of the local workers, 150 or so are still reportedly also being held, though in a separate location from the foreigners and apparently in much less restrictive conditions.
Secretary of Defense Leon Panetta promised that the US would do whatever is necessary and proper to "deal with this situation," but the comments from him and others suggest that isn't going to include any serious effort to negotiate for the release of the hostages, and at best one might expect another unilateral raid, like the failed French raid in Somalia over the weekend that not only failed to free the hostage, but got one of the rescue team captured and eight civilians killed as well.
Instead, US and international reaction is liable to center around further escalation in Mali to spite the kidnappers, while cynically pressing Algeria for yet more concessions in enabling and potentially joining that war.