In June, Pakistan's long-standing Prime Minister Yousef Raza Gilani was removed from office after being convicted of contempt of court by the Supreme Court. Officials named Makhdoom Shahabuddin as his replacement, but this idea was ditched almost immediately when it was discovered he already had a warrant out for his arrest.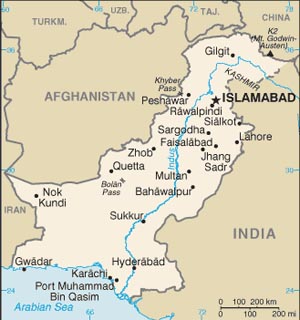 This brought a beginning to the administration of Raja Pervez Ashraf, who was under investigation for corruption charges but hadn't been indicted yet. This was apparently the closest the ruling PPP could come to a candidate who wasn't already a criminal.
Ashraf lasted just over half a year, and now his term looks to be in serious jeopardy as well, as the investigations have completed and the Supreme Court has ordered him and 15 other co-conspirators arrested for corruption in the "rental power plants" scandal.
Ashraf was at the center of the rental power plants scandal, in which off-shore power plants were given hundreds of millions of dollars to generate additional electricity but produced a small fraction of what was promised. At the time, Ashraf was the minister for power and water, and was reportedly paid major kickbacks by the companies for signing off on the deals, earning him the nickname Raja Rental.