While former Sen. Chuck Hagel (R – NE) has sought to tamp down opposition to his nomination as defense secretary by insisting that claims he is averse to starting a war with Iran have been overstated, the opposition he faces within the Senate doesn't appear to be waning.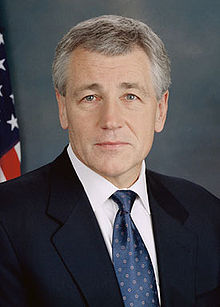 A growing list of senators have come out with either "serious reservations" or outright opposition to Hagel on the grounds that his putative reluctance to start a war makes him an entirely unqualified nominee for the position.
And the public list may only be part of the opposition, with reports that Sen. Mark Kirk (R – IL), who hasn't come out officially on the issue one way or another, is allowing his office to be used as the center of the anti-Hagel campaign, with his deputy chief of staff Richard Goldberg sending round after round of mass emails to politicians warning of the "threat" of Hagel.
Several senators have centered their criticism on the assumption that Hagel's confirmation would upset Israel, though Israeli officials have been quick to insist publicly that they don't have any particular problem with Hagel. So long as this line of argument remains, however, there will be a portion of the Senate which simply will not support Hagel under any circumstances.