Former Senator Chuck Hagel, nominated on Monday by President Obama to be the next Secretary of Defense, would be "likely to favor a sizable drawdown in Afghanistan, more frugal spending at the Pentagon and extreme caution when contemplating the use of force in places like Iran or Syria," if confirmed, Reuters reports.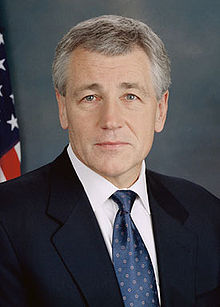 The Obama administration is set to draw down the US military presence in Afghanistan by the end of 2014. But top military general's have insisted on keeping anywhere from 6,000-20,000 troops in Afghanistan for the foreseeable future, perhaps until 2024.
Obama hasn't challenged those recommendations publicly yet, but anonymous administration officials told Reuters Obama is quietly considering slightly less troops to stay beyond 2014, with numbers like 3,000-9,000 floating about.
Chuck Hagel, given his previous statements in opposition to the Iraq war and the surge in Afghanistan, and his own experience in a military quagmire in Afghanistan where he served as a soldier, is likely to urge a quicker withdrawal with less leftover troops.
"We can't impose our will. The Russians found that out in Afghanistan. We've been involved in two very costly wars that have taught us a lesson once again," Hagel told PBS's "Tavis Smiley" show last year.
On Syria, Hagel is similarly reluctant to commit any troops. "I don't think America wants to be in the lead on this," he told Foreign Policy magazine.
"We've got to understand great-power limitations," Hagel said. "There are so many uncontrollable variables at play in Syria and the Middle East." This, incidentally, puts in him agreement not only with the Obama administration, but with virtually the entire US foreign policy establishment.
"It's frustrating; it's maddening. I get all that. But we're still in the longest war in American history and our standing in that part of the world is not that good," he added.
On Iran, a similar story. "The two options — attack Iran or live with a nuclear-armed Iran — may be eventually where we are. But I believe most people in both Israel and the United States think there's a ways to go before we get to those," Hagel said.
Again, this appears to be closely in line with both the Obama administration and the bulk of the US foreign policy crowd in Washington.