A pair of US drone strikes kicked off a new year of the air war against Pakistan overnight, killing four in a strike on North Waziristan and nine others in an attack that destroyed a home in Angoor Adda, South Waziristan.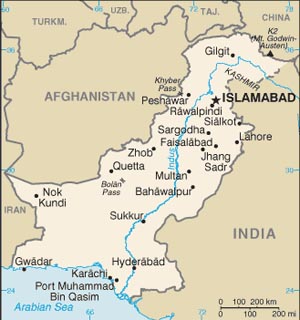 Among the nine killed in the attack in Angoor Adda, still pending formal confirmation, was Maulvi Nazir, a top tribal militia leader who had regularly sent fighters into Afghanistan to fight US forces there, but who has had a multi-year peace treaty with the Pakistani government (since 2006). The US has been trying to assassinate him since at least 2008.
The peace treaty hadn't all been smooth sailing. Nazir regularly faulted Pakistan for not doing anything about US drone strikes against his territory, and he was reportedly among the tribal religious leaders pushing a ban on polio vaccinations after the CIA used a similar phony program to collect DNA.
Though claims of major leaders being slain in US strikes must always be taken with a grain of salt, with some surviving five or more "confirmed" deaths, the story of Nazir's death appears true so far, with reports from locals that a funeral took place. Unlike the funeral for Nazir's former ally, Baitullah Mehsud, the US did not attack this funeral.