Protests in Iraq today weren't quite as large as yesterday's, but were perhaps even more significant, as the Sunni demonstrators across Anbar Province rallied in Ramadi, and were even joined by delegations representing Basra Province tribesmen.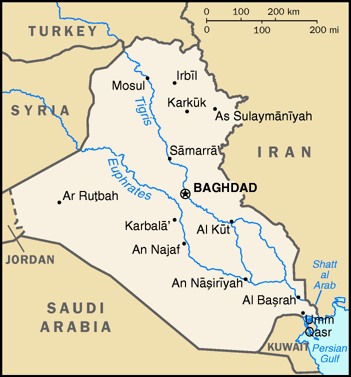 The rallies in Ramadi are particularly significant, with demonstrators continuing to block the highway through the major city, which connects Baghdad to shipping routes in Jordan and Syria. Some flew the flag of Ba'athist Iraq.
Protest leaders accused the Maliki government of not taking their demands seriously, and warning that the protesters are willing to march on Baghdad and fight the regime directly if that doesn't change.
Protests are expected to grow enormously tomorrow, as Friday is a usual day for prayer and protesters can organize larger crowds at mosques. The latest round of protests started when the Maliki government raided Finance Minister Rafie Issawi's home and office, and arrested 150 members of his staff as "terrorists."
The Maliki government has regularly claimed Sunni ministers are "terrorists" and Issawi remains the top ranking Sunni Arab in government, at least excluding Vice President Tareq Hashemi, who is in exile after being sentenced to death by pro-Maliki judges.