When he announced his "resignation," Israeli Foreign Minister Avigdor Lieberman's departure was expected to be extremely brief, as he remains number two on the Likud-Beiteinu list and was expected to return to the cabinet immediately after the next election.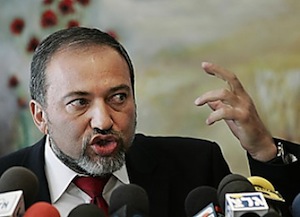 But even that brief departure is overblown, it seems, as his personal aides, including his secretary, office manager and personal spokesman never left, and are still running the office as though he never left.
Legally speaking, they aren't allowed to work "for" Lieberman since his resignation, but despite that legal formality they continue to coordinate the "former" FM's interviews and enact the policies he imposed.
Lieberman's legal troubles could continue to grow, however, with reports that Deputy Foreign Minister Danny Ayalon's testimony has prompted even more investigations, and leaves open the question of whether the FM, already indicted for fraud and breach of trust, could face charges of bribery as well.