Egypt's election commission has announced the final results of a two-part constitutional referendum today, confirming that the constitution has passed with 63.8 percent of voters in favor. The commission threw out votes from polling stations where evidence of fraud was found but it did not significantly change the final result.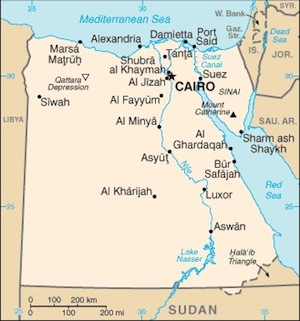 This is the first time since President Hosni Mubarak's ouster during the Egyptian Revolution in February 2011 that Egypt will have a constitution, and powers will actually be defined among different branches of government instead of each side trying to out-do the other with edicts.
It will actually give the Shura Council, the upper house of parliament, significant power for the first time since they were elected too. The military junta had taken legislative power away after being unhappy with the results of the parliamentary elections, and with the courts having forced the lower house to close they will be the only legislative body until new elections are held.
Both the Shura Council and the ousted lower house were dominated by the Freedom and Justice Party (FJP), the Muslim Brotherhood's party. It is also the party which President Mohamed Morsi belongs to.
Egypt's opposition factions complained about the constitutional vote results, pointing to the relatively low voter turnout and promising to continue protesting. It isn't clear how much momentum this protest has anymore, however, as many of the opposition blocs are gearing up to take part in the election for lower house of parliament, expected to be held within the next two months.