Delivering his annual Christmas message, Israeli Prime Minister Benjamin Netanyahu sought to make the holiday, as with everything else, all about Iran.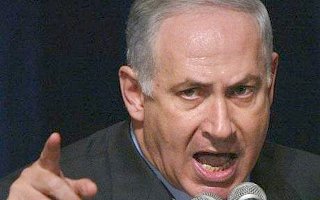 In the speech, Netanyahu sought to explain to Christians the existential threat that they face from Muslims across the Middle East, going on to insist that Israel is the only country where Christians are free of persecution, omitting multiple "price tag" attacks on Israeli Christian sites this year.
That threat, Netanyahu insisted, is the same as the Iranian existential threat to Israel, and both Israel and Christians need to unite in their Judeo-Christian heritage, closing with an urge for Christian tourists to visit locations in the occupied West Bank.
The annual Christmas message has often been played by Israeli leaders for political gain, but this year's version was unusually bellicose, perhaps reflecting Netanyahu's rightward shift ahead of the election.