Christmas in Gaza is likely as grim as most other days in Gaza. The situation is improving some with the latest ceasefire, but with the blockade still operating in parts, the tiny strip is a lousy place to spend the holidays.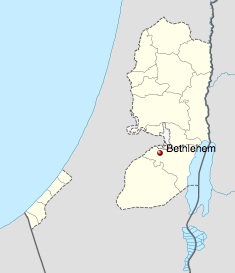 Lousy enough that even the Israeli military appears to have taken notice, and is making a big show of allowing Christians to leave the strip briefly, just for Christmas, to visit Bethlehem, a city in the occupied West Bank.
Only some are getting to leave, however, as the Israeli military is issuing around 500 permits in the strip, where the Christian population is estimated at about 10,000. The military is also said to be planning to decrease operations around Bethlehem to facilitate Christian pilgrims' visits.
Traditionally Bethlehem is believed to be the birthplace of Jesus, though the initial city and church were destroyed in 529 during a Samaritan uprising, and the current city on the site was built decades later by the Byzantine Emperor Justinian. Since then the city has changed hands several times to several different empires, but has retained a significant Christian population, which has made it popular with Christian tourists, particularly at this time of year.