The United Nations General Assembly on Thursday voted overwhelmingly in favor of a resolution upgrading Palestine to a "non-member observer state," from a "non-member observer entity."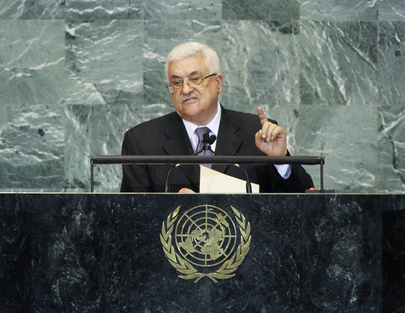 In remarks to the Assembly before the vote, Palestinian President Mahmoud Abbas said this was the body's "last chance to save the two-state solution."
"We did not come here seeking to delegitimize a state established years ago, and that is Israel. Rather we came to affirm the legitimacy of a state that must now achieve its independence and that is Palestine," Abbas said.
"The moment has come for the world to say clearly: enough of aggression, enough with settlements and occupation," Abbas said.
The final vote was 138 in favor, nine opposed, with 41 abstentions.
Following the vote, US Ambassador Susan Rice said, "Today's unfortunate and counterproductive resolution places further obstacles in the path for peace, that is why the Untied States voted against it."
Rice condemned the resolution as objectionable because it was "unilateral," which is a strange word to describe a measure in accord with an overwhelming international consensus.
While the resolution does not grant Palestine full statehood, it does give Palestinians access to other UN bodies like the International Criminal Court, where Palestinians were previously prohibited from bringing Israel to court for its war crimes on the grounds that they lacked jurisdiction.
The vote seemed to hinge on this aspect of Palestine's new status. The US and Israel led an effort to get the PLO to include a clause prohibiting Palestine from bringing Israel to the ICC, which was revealing, because if they truly believed Israel hadn't committed war crimes, such an effort wouldn't be necessary.
A secret State Department diplomatic cable released by WikiLeaks revealed that one of the primary reasons behind Israeli objections to Palestinian statehood is that lack of statehood keeps Palestinian territories outside the jurisdiction of the International Criminal Court (ICC).
Israel has not only been accused of war crimes in its last two attacks on Gaza, but also its policy of colonizing Palestinian land in the West Bank has been roundly condemned as a violation of international law, and in fact, war crimes.
Aside from this objection, the US and Israel, who lead the puny opposition to Palestinian statehood, claim such a settlement must be reached by direct negotiations. But decades of the defunct peace process has revealed it to be merely a scheme to provide Israel with more time to colonize additional Palestinian land.