Israeli Foreign Minister Avigdor Lieberman scolded the United Nations Secretary General for advocating against an Israeli ground invasion of Gaza, arguing such talk bolsters Hamas.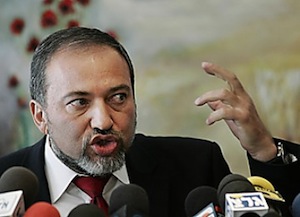 UN chief Ban Ki-Moon arrived in Israel as part of an international diplomatic push aimed at bringing Israel and Hamas to a cease-fire.
Hamas, through Egypt, has offered a proposal for a ceasefire and a long term truce, but it has been ignored by Israel. "The truce is now held up because we are waiting for the Israeli side to respond," Hamas official Ezzat al-Rishq.
Lieberman's suggestion that the Secretary General of the United Nations – whose position exists to help prevent war between nations – shouldn't argue against an Israeli ground invasion of Gaza because it 'helps the terrorists' has to be the most vacuous attempt at speech-control yet in this conflict.