Secretary of State Hillary Clinton arrived in Israel on Tuesday night to reiterate US support for ongoing Israeli aggression in the Gaza Strip, even as Israel appeared to reject a Hamas ceasefire proposal.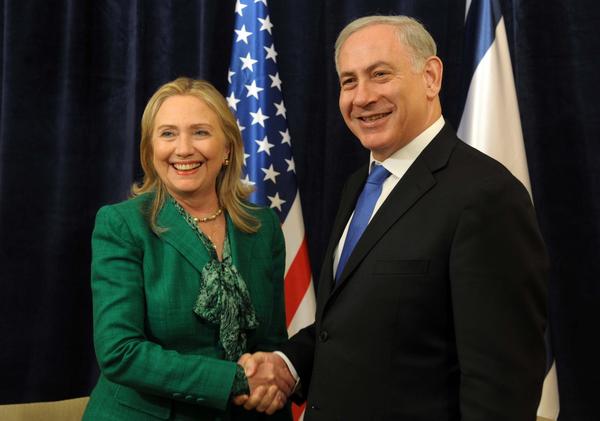 In a press conference with Israeli Prime Minister Benjamin Netanyahu, Clinton praised the success of the Iron Dome missile defense system, which has intercepted most Hamas rockets, but said that it is no substitute for a "just and lasting peace."
That just and lasting piece, she failed to include in here remarks, is being continuously forfeited in favor of military occupation of Palestinian land, disposssessing Palestinians of their homes and livelihoods, a savage economic blockade on Gaza, and continued airstrikes into the defenseless Gaza Strip.
Netanyahu said Israel preferred a diplomatic solution but that Israel would do "whatever is necessary to defend its people." Defense, in this case, meaning disproportionate aggression against a largely defenseless population of Palestinians.
Hamas, through Egypt, has offered a proposal for a ceasefire and a long term truce, but it has been ignored by Israel.
Hamas official Ezzat al-Rishq told Reuters, "The Israeli side has not responded yet," and, "the truce is now held up because we are waiting for the Israeli side to respond."