Officials with the Hakkari Provincial government in Turkey have reported that a three day military operation against the PKK in the province has resulted in 42 PKK fighters and one Turkish soldier dead.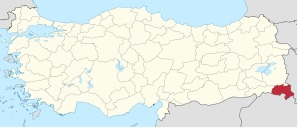 Turkish forces say that drones were used to identify PKK fighters and air strikes were launched against them. The province has seen an increase in PKK activity in recent months, and officials say the operation is not over.
The ground campaign against the PKK was not described in details, but officials say that raids by troops turned up caches of "food supplies and medication" in several of the apparent camps, and attributed some raids to "anonymous tips."
The Turkish military and the PKK have been fighting for nearly 30 years now, as the group seeks to carve out an independent Kurdistan, or at the very least a level of relative autonomy. The group is also active in Syria, where it has clashed with Turkish-backed Syrian rebels.