The Mexican government has announced charges of attempted murder against 14 members of their federal police today stemming from a late August attack on a pair of CIA operatives who were there as part of the US war on drugs.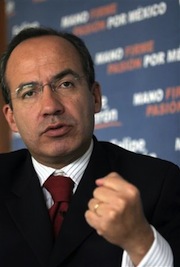 In the incident the police sprayed the armored US vehicle, which was using diplomatic license plates, with bullets, wounding but not killing the two CIA agents. US and Mexican officials say they believe the attack was ordered by the Beltran Leyva Cartel.
One lawyer associated with the cases says that the reputation of the national police "was already at rock bottom" at the time of the attack, and the low-paid police are notoriously easy to recruit for the bigger cartels.
But the bigger blow may have been to President Felipe Calderon, who had made the war on drugs his centerpiece policy, and just months ahead of ending his term in office yet another high profile failure has left his legacy a shambles. His successor ran a campaign on reducing violence as an alternative to staying the course on the US-backed war, which has been disastrous to Mexico.