Israeli Prime Minister Benjamin Netanyahu and his political allies are scrambling since President Obama's reelection, after having spent much of the campaign season staunchly pro-Romney.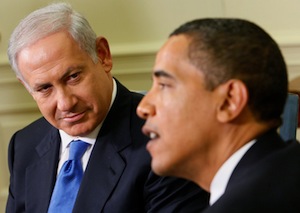 "This is probably not a very good morning for Prime Minister Benjamin Netanyahu," said Interior Minister Eli Yishai, a major coalition partner.
Netanyahu and his Likud Party had not-so-privately yearned for Obama to get voted out by Republican contender Mitt Romney, in what opposition leader Shaul Mofaz described as "a rude, blunt, unprecedented, wanton and dangerous intervention in the United States election."
"Netanyahu bet on the wrong president and got us into hot water with Obama," declared the opposition Kadima Party in a statement. The Israeli newspaper Haaretz openly Netanyahu of "interfering grossly, vulgarly and unreservedly in the campaign."
"It is hard to overestimate the risks that Benjamin Netanyahu poses to the future of his own country," wrote David Remnick in the New Yorker in September. "As Prime Minister, he has done more than any other political figure to embolden and elevate the reactionary forces in Israel, to eliminate the dwindling possibility of a just settlement with the Palestinians, and to isolate his country on the world diplomatic stage."
"Now Netanyahu seems determined, more than ever," Remnick added, "to alienate the President of the United States and, as an ally of Mitt Romney's campaign, to make himself a factor in the 2012 election."
Now many US and Israeli observers are speculating about whether Obama will find a way to punish Netanyahu for favoring Romney, or develop a more demanding diplomatic posture.
Netanyahu quickly congratulated Obama on his victory. "I will continue to work with President Obama to ensure the interests that are vital for the security of Israel's citizens," he said, refusing to acknowledge any problem.
"But privately, Netanyahu's office ordered all his top ministers to remain silent on the results of the U.S. elections, fearing negative comment on Obama's victory," McClatchy reports.
The notion that Obama will demonstrably change policy towards Israel is highly unlikely, however. Indeed, the rift between Obama and Netanyahu was more imagined than anything in a first term filled with unprecedented levels of economic and military support, even as Netanyahu actively violated international law and destroyed any chance for a settlement with the Palestinians.