A series of rulings aimed at holding the Pakistani military accountable for human rights abuses and, perhaps most unprecedented in a nation whose short history is one of regular coups d'etat, an admonishment by High Court justices not to interfere in the political process, has rubbed Pakistan's Chief of Army Staff Gen. Parvez Kayani the wrong way.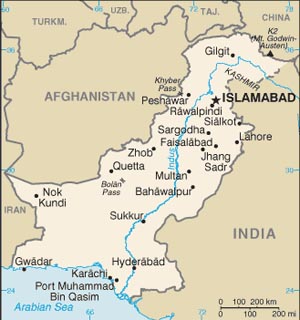 In a harshly worded statement today, Gen. Kayani warned the courts not to try to "draw a wedge" between the military and society, cautioning that its rulings are "weakening the institutions" in Pakistan.
Kayani said that the Pakistani military is reliant on public support and insisted any effort to make the military look bad was a threat to the "larger national interest." He also urged the courts to allow the military to handle "individual mistakes that might have been made."
Recent rulings have seen retired generals ordered prosecuted for election-rigging efforts in the 1990 vote, and hearing have looked uncomfortably close into the ongoing problem of "disappearances" of people believed to be on the military's bad side, particularly in Balochistan, where citizens regularly vanish or turn up mysteriously murdered.
Pakistan's judiciary has been popular with the public, with major rallies ushering in the return of Chief Justice Chaudhry after he was removed by the military in the lead-up to the last election. Chaudhry and the rest of the top judges have made enemies of the civilian government as well, having forced former Prime Minister Gilani from office in a recent corruption charge and insisting, despite claims to the contrary by the government, that elected officials are not above the law.
Gen. Kayani has been noteworthy in being relatively reluctant to directly interfere in politics, as standoffs between military and civilian leadership which have historically ended in coups have so far only resulted in stern warnings.