Speaking at a conference in London, Israeli Defense Minister Ehud Barak insisted his nation would never rely on "even our closest, most trusted allies" on the question of whether or not to attack Iran.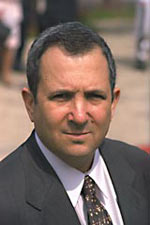 "We live in a tough neighborhood, one in which there is no mercy for the weak," Barak added,  going on to discuss the possibility of Israel also attacking Syria because of "the warm ties between Hezbollah and Syria."
Barak's comments reflect the current government's repeatedly stated position that it will decide when it wants to attack Iran unilaterally. The comments are likely more about improving Barak's own election prospects among hawkish voters than anything else.
That's because having split with the Labor Party, which is now polling as the number two party, Barak's own Independence Party is struggling to get even a single seat, and he may well wind up outside politics entirely.