The US-backed dictatorship in Bahrain has banned all rallies and protests in the country, the latest repressive measure imposed on the population in response to persistent pro-democracy protests that have not let up for almost two years now.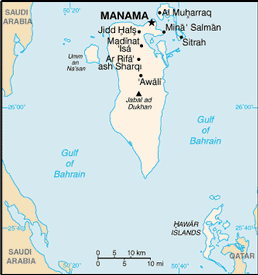 Lt. Gen. Shaikh Rashid bin Abdullah Al Khalifa, Bahrain's interior minister, issued a statement on Monday essentially announcing that freedom of expression in Bahrain is a threat to the state and inserting lies about the pro-reform movement's ties with "extremism."
"It was decided to stop all rallies and gatherings until ensuring that security is maintained through achieving the targeted security to protect national unity and social fabric to fight extremism," Bahrain's state news agency reported, quoting the interior minister as saying "any illegal rally or gathering would be tackled through legal actions against those calling for it and participants."
The Obama administration, contrary to its own propaganda about being on the side of the people in the Arab Spring, has continued to lend economic, military, and diplomatic support to the tiny Persian Gulf monarch throughout its brutal repression of peaceful demonstrators since early 2011, when forty-seven unarmed protesters were shot and killed with live rounds by security forces.
The Bahraini regime hosts the US Navy's Fifth Fleet, which allows the United States to "project power" in the Persian Gulf and patrol the Straits of Hormuz, through which 40 percent of the world's seaborne oil passes. That ruthless geo-political advantage is not something the Obama administration is willing to give up for the sake of democracy and human rights.
Banning all protests and demonstration is a dramatic violation of basic rights, but it is only one aspect of the repressive, martial-law type responses from the US-supported dictatorship. Others have included systematic torture, beatings, weaponizing tear gas, imposing curfews, harassing well-known activists, show trials and detentions, and cracking down on press freedoms, among many others.