Israeli Prime Minister Benjamin Netanyahu's position as the leader of far-right list Likud-Beiteinu in the early elections may be secure, but that isn't going to stop him from looking for new ways to really stick it to the Palestinians before the election.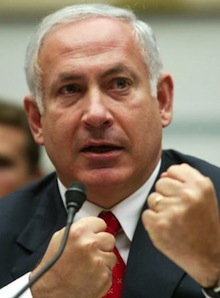 That's the message from Israeli Foreign Ministry officials today, following confirmation that the Palestinian Authority is going to seek formal recognition as a "non-member state" at the UN General Assembly at some point in November.
Israel opposes this, of course, but unlike efforts to get recognition from the UN Security Council the United States can't veto this, so it is certain to pass with an overwhelming majority, as Palestinian statehood is backed near universally outside of DC and Tel Aviv.
The Foreign Ministry is urging Palestinians to wait until after the Israeli election, saying that Netanyahu liable to do about anything in retaliation, including seizing Palestinian tax funds and announcing massive new settlement expansions. Of course the fact that Netanyahu withholds Palestinian tax funds pretty regularly anyhow, and the massive settlement expansions have been coming pretty much nonstop since the end of the freeze make these threats much less impactful.
The PA doesn't seem to have much to lose, since it is virtually bankrupt and facing popular unrest over their inability to make any progress on statehood. That's why Israel is directing the "warning" to the European Union, hoping they can scare the Palestinians somehow.