Legendary cricket player and Pakistani MP Imran Khan, whose Pakistani Tehreek-e Insaf (PTI) party is looking to sweep the next elections with their very public criticism of US drone strikes against tribal areas, missed a scheduled appearance in New York today when US officials detained him at the Pearson Airport in Toronto.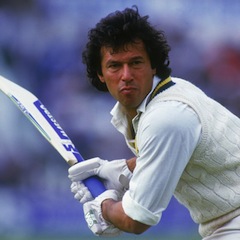 What followed was a 30 minute interview with US immigration officials which Khan termed "bizarre," with officials repeatedly pressing him on his position on drone strikes, which is by far his most publicly well-known position.
After a 30 minute interview, in which US officials reportedly called him a "supporter of the Taliban," Khan was released, but missed his flight to New York. He is scheduled to make several appearances across the US and Canada over the upcoming days, fundraising with Pakistani expats ahead of next year's elections.
Long a minor party, the PTI is expected to gain considerably in that vote, with some suggesting Khan might even have an outside shot at forming the next government, reflecting voter discontent with the tradition "major" parties' corruption and seeming inability to confront the US on the drone strikes deleterious effect on domestic security.