Turkish troops launched a new round of artillery shells into neighboring Syria today, the third consecutive day of such attacks, after a Syrian mortar shell crossed the border and landed in Hatay province.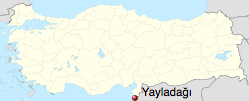 Today's Syrian shell does not appear to have been intentional, falling just 50 meters across the border in an empty field, doing no damage. Turkey's return fire likewise did not cause any casualties, at least according to preliminary reports.
Turkish officials said that today's return fire was in keeping with the rules of engagement given to the military related to cross-border attacks. It is unclear if those rules have changed since Wednesday's strike, in which Syrian shells hit Akcakale, killing five civilians.
Turkey's parliament approved cross-border military operations in a vote yesterday, but indications from Turkey's leadership suggest that this is unlikely, and that they are not intent on escalating the strikes.