It was a grim Independence Day in northern Nigeria today, as attackers raided a youth hostel overnight in Mubi, Adamawa State, killing 46 students before they left. The attack was near the campus of Mubi Polytechnic. 26 of the slain were from that school, while the rest were students at other nearby schools.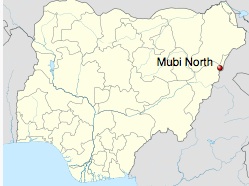 The attackers were not identified, but were wearing military uniforms and demanded the names of the students as the moved through the hostel, sparing some and killing others without giving an indication why. The attackers killed Muslims and Christians alike.
The suspicion is that the Boko Haram carried out the attack, as it came just days after the arrests of several suspected members in the town, and also came after a statement warning students to leave the polytechnic school.
Boko Haram got its start as an anti-education sect which maintained that all modern science and beliefs are religiously forbidden. Though the group has since adopted modern weaponry (after their initial skirmishes with bows and arrows saw them massacred by the Nigerian military), they still retain a hostility toward "western" knowledge.
Nigeria has ordered a curfew in Mubi but has insisted it doesn't know for sure who carried out the attack, initially speculating that it was a "political" dispute gone wrong.