After two years without any significant progress on peace talks, Israeli Defense Minister Ehud Barak surprised many today by floating a proposal to withdraw Israeli troops unilaterally from some portions of the occupied West Bank.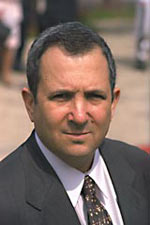 Barak called to evacuate a number of small settlements in the West Bank while retaining the bigger ones, essentially dictating the borders unilaterally and leaving without negotiations.
Deputy Prime Minister Dan Meridor loudly condemned the idea, saying that the Palestinians simply don't want to reach an agreement and the occupation must continue. He claimed that withdrawing troops from the area would mean an immediate war.
Vice Premier Silvan Shalom also dismissed the idea, but also mocked Barak for his poor polling numbers, noting that he won't be in any position to decide after the next election. Recent estimates have suggested Barak, who saw the Labor Party split under his leadership because of his hawkish stance, might not even win a seat in parliament next time.