With Israeli Prime Minister Benjamin Netanyahu pressing the Obama Administration to lay out a "red line" on Iran, for which the US would automatically go to war, the US has laid out the acquisition of a nuclear bomb as the official "red line."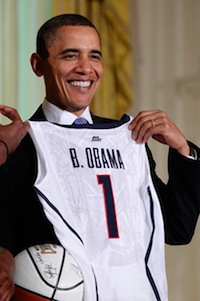 This is of course far short of what Netanyahu wanted, as the Israeli leader was looking for something Iran might conceivably be trying to get, whereas Iran hasn't made any weapons-grade uranium nor is it expected to.
Not to be outdone on trying to placate Israel, Mitt Romney also came out with his own "red line" on Iran, which was as usual identical to the Obama Administration's own position.
Both Obama and Romney are laying out positions of imposing more and more sanctions on Iran, hoping to damage the Iranian economy even as the reduction of oil exports harms the rest of the world's economy. Netanyahu has been hoping for a war in the next few months, though recent reports are that this is unlikely.