Israeli Defense Minister Ehud Barak today rejected reports that he is no longer in favor of attacking Iran, saying that the recent media reports to that effect are untrue and that he "always sees eye to eye" with hawkish Prime Minister Benjamin Netanyahu.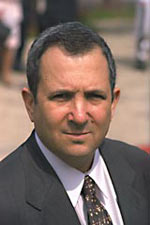 Barak also sought to end the speculation about a policy split with the US, saying that the US always respects Israel's right to "decide for itself" on questions of war and reiterating that "all options are on the table" against Iran.
He also lashed the Israeli press for in-depth reporting on the possibility of the war, saying that it is "far beyond what is desirable" and that the claims of US opposition are "exaggerated."
Barak made it clear what his formal position of the war is, which is that it will happen unless Iran abandons every aspect of its civilian nuclear program, and that Israel will decide unilaterally when to attack.