Further adding to the number of rebel factions in Syria with ties to al-Qaeda, Jordanian militant leader Abu Sayyaf, head of the Abu Sayyaf Gang (not related to the Philippines Abu Sayyaf faction) spoke today to a rally in Amman, Jordan promising to rally his fighters to deply to Syria to oust President Bashar Assad.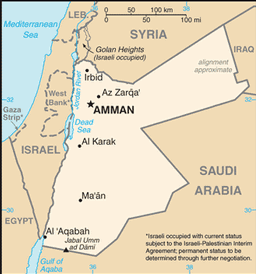 "Our fighters are coming to get you," Sayyaf warned. The Sayyaf Gang has mostly been a local militant movement inside Jordan, but the number of the group's fighters who have moved on to join al-Qaeda to fight in Afghanistan is significant.
Sayyaf made a name for himself in 2002, organizing protests against the killing of a local clerk by Jordanian police in Ma'an. He was arrested when the protests turned into a riot and a bloody crackdown, and was tortured in detention.
He was eventually convicted in late 2004 of being a "subversive" for this, and served around one year in prison after the conviction. Prosecutors had initially sought to have him and other protest leaders executed but amid growing domestic criticism they feared a renewed riot.