Iranian President Mahmoud Ahmadinejad is preparing for a speech later this month at the United Nations General Assembly, and by all accounts Iran will aim to signal its openness to continued talks, which have stalled due to US intransigence.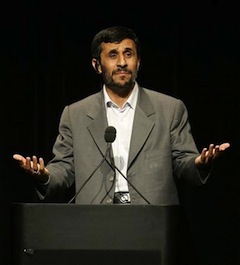 Iran's relative weakness on the international stage doesn't give it much room to be aggressive, in either Ahmadinejad's rhetoric or in actual policy, which is part of what has led the US and Israel to dial back their war rhetoric in recent weeks.
"Iran will not distance itself from talks," said Ismail Kowsari, an influential member of Iran's parliamentary Committee on National Security and Foreign Policy.
The question is whether Iran's willingness to keep talks going will correspond with a willingness to talk from the West. "In that sense, cold gridlock is better than hot combat," said Karim Sadjadpour of the Carnegie Endowment for International Peace.
So far, the US-led P5+1 group has made overly strict demands on Iran while continuing aggressive military and economic postures. Iran, on the other hand, has offered a measured proposal which the West balked at and rejected.
In Moscow, the Iranians offered a proposal that included agreeing to halt uranium enrichment to 20 percent, to more fully cooperate with international inspections, and to "operationalize" the Supreme Leader's fatwa against nuclear weapons. In exchange, Iran asked for easing economic sanctions and international recognition for Iran's right to have a peaceful nuclear program under the Nuclear Non-Proliferation Treaty.
The proposal from the P5+1 demanded that Iran halt 20 percent enrichment, ship out its 20 percent stockpile, and dismantle the highly fortified Fordo enrichment facility. In exchange, the US-led group offered Iran spare parts for its civilian air planes, a pathetic offer that they must have known would not result in much reciprocation.
The so-called diplomacy with Iran has been "predicated on intimidation, illegal threats of military action, unilateral 'crippling' sanctions, sabotage, and extrajudicial killings of Iran's brightest minds," writes Reza Nasri at PBS Frontline's Tehran Bureau. These postures have spoiled the chance to resolve this issue promptly and respectfully.
After the failed talks in 2009 and 2010, wherein Obama ended up rejecting the very deal he demanded the Iranians accept, as Harvard professor Stephen Walt has written, the Iranian leadership "has good grounds for viewing Obama as inherently untrustworthy." Former CIA analyst Paul Pillar has concurred, arguing that Iran has "ample reason" to believe, "ultimately the main Western interest is in regime change."