Four landmines detonated against a Turkish military convoy in the Hakkari Province sparked an all-day gun-battle between troops and the PKK, leaving at least six soldiers and 26 PKK dead.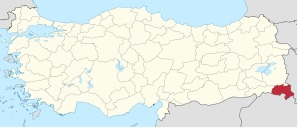 It is the latest in a seemingly endless series of battles in Hakkari and elsewhere in the Kurdish portion of Turkey, with major fighting nearly all month along the border with neighboring Iraqi Kurdistan.
The first attack killed only one soldier, in Umurlu village, and the subsequent fighting took place across the province, with attacks targeting several districts across the province. Officials also reiterated their belief that the PKK were responsible for the Gaziantep bombing earlier this week.
The PKK has not commented on the latest round of fighting, but has denied any involvement in the Gaziantep bombing. Gaziantep is along a highway linking Turkey and Syria, and is 80 miles north of Aleppo, so there has been some secondary speculation that a faction in Syria may have been responsible.