A car bombing hit the Turkish city of Gaziantep earlier today, the first major attack to hit the city in the ongoing PKK insurgency in southeastern Turkey. The attack killed eight people and wounded 50 others.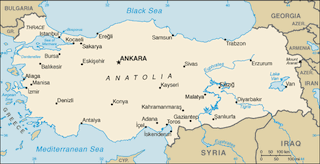 Exact details are scarce, but the attack took place near a police station in the city, and caused a fire in a nearby bus. There has been no formal claim of responsibility yet, but officials are assuming it to be a PKK strike.
So are some locals, who rallied after the strike chanting anti-PKK slogans and condemning their jailed leader Abdullah Ocalan. The bombing comes just days after the 28th anniversary of the first armed attack of the ongoing insurgency.
Gaziantep is one of the oldest cities in Turkey, and is just 80 miles north of the disputed Syrian city of Aleppo. Despite this proximity, there doesn't appear to be any indication that the strike is directly related to the Syrian Civil War.