Russia's Foreign Ministry has issued a statement today warning Britain against attacking the Ecuadorean Embassy in London, saying it was unthinkable for a nation to violate "the spirit and the letter" of the Vienna Convention, which makes diplomatic premises inviolable.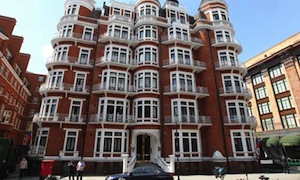 Britain made the threat Wednesday, saying British law allows them to invade embassies to capture people for extradition, in this case WikiLeaks founder Julian Assange. Ecuador granted Assange diplomatic asylum on Thursday,  prompting an emergency meeting of the Organization of American States about the prospect of a British attack on the embassy.
Britain's parliament passed the law on raiding embassies in 1987, in reaction to the shooting of a British policewoman by someone inside the Libyan embassy. Experts say that the law was meant to allow for "special cases" surrounding imminent violence, and that attacking the Ecuadorean embassy was unlikely.
At the same time, the British government has ruled out allowing Assange to actually leave the embassy and go to Ecuador, setting up a standoff in which he could be forced to live in the embassy for years.
Last 5 posts by Jason Ditz