Ecuador's government is calling for an emergency meeting of the Organization of American States (OAS) tonight after the British Foreign Office threatened to invade the Ecuadorean embassy in London in an effort to capture Julian Assange.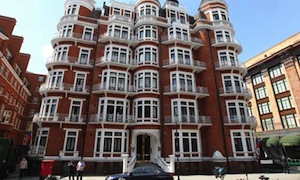 Assange is currently in the embassy pending an asylum decision by the Ecuador government, which is expected Thursday. The Ecuadorean government has confirmed receiving a letter sent by the British Embassy in Quito threatening to attack the embassy.
Attacking an embassy is almost unheard of in the Western world and a violation of the Vienna Convention, but British law grants the government the ability to attack embassies whenever it considers it in the national interest.
Ecuador's Foreign Minister Ricardo Patino slammed the threat, saying that "we want to be very clear, we're not a British colony," and adding that they would consider an attack on their embassy to be an "unfriendly, hostile and intolerable act."