Egypt's military junta is vowing to "avenge" the deaths in yesterday's Sinai Peninsula terror attack, but the Israeli government is looking to make hay about the incident with Egypt's only elected official, President Mohammed Mursi.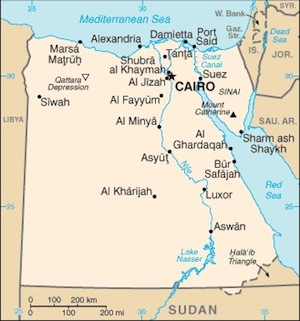 In comments Israeli Defense Minister Ehud Barak says he hopes the deaths of 16 Egyptian police serves as a "wake-up call" for Mursi about the seriousness of border security. So far no group has claimed credit for the attack.
But Israeli officials have been trying to pin the incident on Gaza Strip factions, with an apparent eye toward complaining about President Mursi's plans to allow Gazans to cross the border into Egypt.
The whole incident seems so tailor-made for Israel to rail against Mursi that the Muslim Brotherhood issued a statement saying that they believe the incident "can be attributed to Mossad" and was carried out with the explicit goal of undermining Mursi's position.