Israeli and Egyptian security forces are on high alert tonight after an attack by militants in Bedouin garb left 16 Egyptian police killed and a border police station sacked.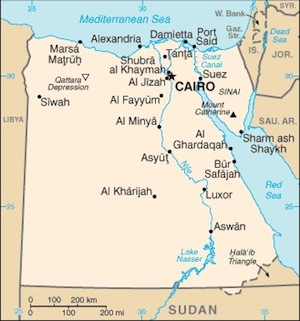 The militants attacked the police station earlier in the day, sacking the station, killing 16 and injuring several other police, and making off with two army vehicles that were at the compound. The vehicles were used in an attempt to fight through the Kerem Shalom crossing into neighboring Israel.
The attempt to fight into Israel was unsuccessful, as Israeli forces attacked the vehicles and killed an undisclosed number of militants. Egyptian forces are still searching the area for any possible surviving attackers, and Israeli forces are searching their side of the border as well in case any of the attackers got inside.
Hamas, which is on friendly terms with the new Egyptian president, slammed the attack and announced that they are closing all crossings including smuggling tunnels into Egypt to ensure that the attackers don't try to flee into the Gaza Strip.
No group has claimed credit for the attack yet, but Israeli military officials tapped them as members of Global Jihad and said it was likely they had Palestinian ties.