Speaking to media today during a visit to Tunisia, Secretary of Defense Leon Panetta sought to downplay the possibility of a unilateral Israeli attack on Iran in the near term, saying that he didn't think Israel had decided to launch any attacks yet.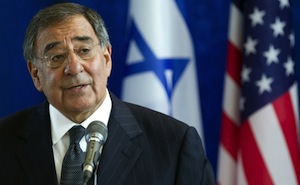 Rather, Panetta insisted that Israel was "united" with the US on a current policy goal of seeing more sanctions imposed on Iran to "bring pressure" against them for refusing to abandon their civilian nuclear program.
Panetta, who will be visiting Israel on Tuesday, promised to see major new anti-Iran sanctions in the next few weeks, saying that they will be "a whole new level of impact" and will prove to Iran the need to back down.
Panetta's visit will come amid speculation that the US tried to placate Israel and convince them to back sanctions instead of immediate war by providing them with full details of a US plan to attack Iran. Israeli Prime Minister Benjamin Netanyahu has denied that such a meeting took place.