Turkey this week implied that it would not hesitate to take military action in northern Syria against Kurdish groups that have gained some measure of autonomy amid the instability, but many observers have warned this would be very dangerous for Turkey.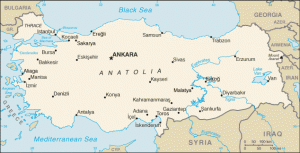 Turkish Prime Minister Recep Tayyip Erdogan's threats were taken seriously across the international community, especially since it has carried out similar cross-border attacks against Iraq's Kurds it suspected of cooperating with Turkey's Kurdish separatists (PKK), long deemed terrorists by Ankara.
"If you implement a hot pursuit against the PKK militias in northern Syria, the government in Syria will react very differently from the Iraqi government," Osman Bahadir Dincer of the Ankara-based USAK thinktank told AFP.
Despite the Syrian regime's troubles as of late, Turkish military action in Syria risks a harsh retaliation by the Assad regime and from Syria's powerful allies.
"If Turkey brings soldiers onto Syrian soil by itself and not as part of an international operation, it would be an open provocation to Russia and Iran," said Cengiz Candar of the daily Radikal newspaper. Unilateral action against Syria could suck Turkey into conflict with Assad, worsen the internal conflict in Syria, and aggravate the Kurdish tensions in Turkey.