At least 42 people were killed today and possibly quite a few more according to various reports from officials in Tajikistan, after the Tajik military launched a major offensive against rebels in the southern Gorno-Badakhshan Province. Scores of others were reported wounded.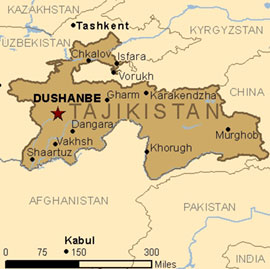 Gorno-Badakhshan is an autonomous province in the far east, home to ethnic Pamiris. The province declared independence in 1992 but was crushed in the ensuing civil war. After the civil war, many of the former rebels were given government jobs as part of a UN-brokered reconciliation plan. They have mostly been driven out of their positions by the regime, fueling discontent.
The offensive was announced after a top Tajik general was stabbed to death and the rebels were blamed. Officials say that while today's offensive went well, more attacks are planned for tomorrow.
The initial military statement for today's offensive said 12 soldiers and 30 rebels were killed, but other official outlets said 20 or more Tajik soldiers were slain. A number of ambulances were seen pouring into the capital city later in the day, apparently ferrying wounded soldiers to hospitals.