Syrian rebels have taken control of all the border crossings and military outposts between Iraq and Syria, according to senior Iraqi officials.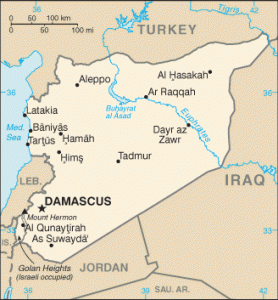 "All the border points between Iraq and Syria are under the control of the Free Syrian Army," Baghdad's Deputy Interior Minister Adnan al-Assadi told AFP.  "The border points and all the outposts are under the control of the Free Syrian Army."
Assadi added: "If this situation continues, we are going to close the entire border with Syria."
Earlier, Iraqi Army Brig. General Qassim al-Dulaimi said he saw Syrian rebels attack two military outposts near the Iraqi border, killing more than 2o Syrian soldiers and seizing control of the base.
Assadi claimed that Iraqi border guards witnessed the rebels detain a Syrian army lieutenant colonel, and then cut off his arms and legs. "Then they executed 22 Syrian soldiers in front of the eyes of Iraqi soldiers," Assadi said, although his account could not be independently verified.
These rebel achievements come just a day after a bomb attack in Damascus killed three of Assad's top military officials and consultants.
This week's stepped-up rebel campaign against the Assad regime has increased in capacity and sophistication at an incredible rate. Although support to the rebels had not previously resulted in substantial opposition gains, the passed few days seem to have been the result of a new kind of outside help.
The Assad regime remains very strong and largely cohesive, but rebel activity appears to be gaining ground and effectiveness. The fact that hundreds of al-Qaeda militants are also fighting the Assad regime in sync with the rebels has not seem to have given Western leaders too much pause. The post-Assad mess that is sure to come – if these gains are the beginning of the end for Assad – has also received little consideration, especially given the fractured, sectarian nature of the opposition.