China's official Xinhua news agency on Saturday accused the Obama administration of "meddling" in the Asia-Pacific and specifically the South China Sea territorial disputes.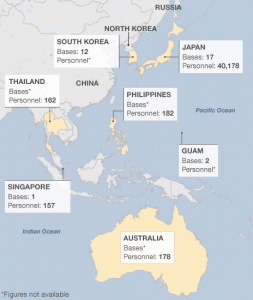 "Though wary of overtly irking China," Xinhua reported, the Obama administration has "further meddled in the South China Sea issue by repeatedly highlighting America's interests there and openly supporting individual ASEAN members' scheme to complicate the maritime dispute."
The US has been ramping up the pressure on China with an increasingly antagonistic foreign policy. The so-called 'Asia pivot' is an aggressive policy that involves surging American military presence throughout the region – in the Philippines, Japan, Australia, Guam, South Korea, Singapore, etc. – in an unprovoked scheme to contain rising Chinese economic and military influence.
In the South China Sea territorial dispute with the Philippines, the US has intervened by building up the Philippines's military and security forces, offering funding and weapons in exchange for greater American presence in the country. Recent joint U.S.-Filipino military exercises and explicit defense guarantees to the Philippines from Washington have heightened tensions considerably, prompting a naval standoff between China and the Philippines in recent months.
The Xinhua news agency said "China's maritime territorial sovereignty has been severely infringed this year" by the Philippines, Japan and Vietnam.
"Though China always exercises restraint and insists on diplomatic solutions to the disputes, some countries keep challenging China, which certainly has something to do with US re-engagement in the region," it said.
"Washington must understand that returning to Asia by way of militarily flexing its muscle and diplomatically intervening in bilateral disputes is wrong and short-sighted."
Such increased tensions were a predictable result of America's bellicose postures. A recent report from the Center for Strategic International Studies predicted that next year "could see a shift in Chinese foreign policy based on the new leadership's judgment that it must respond to a US strategy that seeks to prevent China's reemergence as a great power."
"Signs of a potential harsh reaction are already detectable," the report said. "The US Asia pivot has triggered an outpouring of anti-American sentiment in China that will increase pressure on China's incoming leadership to stand up to the United States. Nationalistic voices are calling for military countermeasures to the bolstering of America's military posture in the region and the new US defense strategic guidelines."