Fresh off of yesterday's announcement that the Supreme Court had removed Prime Minister Yousef Raza Gilani from office, the ruling Pakistani Peoples Party (PPP) has pushed through his replacement in the form of former Health and Finance Minister Makhdoom Shahabuddin.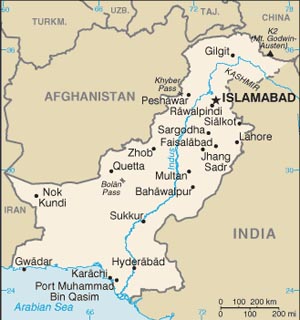 Gilani's replacement isn't the end of the government's clash with the Supreme Court and indeed may be only the beginning. Pakistan's ANF, the government anti-drug taskforce, has announced that the court had already approved Shahabuddin's arrest even before he was appointed to his new post.
Indeed, the approval for his arrest was made quite awhile ago, and the Supreme Court had even pressed the ANF earlier this month on why Shahabuddin hadn't been successfully captured yet. The answer was timing, and stalling by the bureaucracy.
Shahabuddin was at the center of the ongoing Ephedrine Scandal in Pakistan, during which two companies in Islamabad obtained fake export orders from the Health Ministry (at the time Shahabuddin's portfolio) to produce large quantities of ephedrine for export to Iraq. Virtually none of the produced jars were ever exported, and most of the production, which is supposed to be tightly regulated, ended up being used for the production of illegal street drugs.
The ANF had arrested more than one official in the scandal already, and had nearly 30 officials overall in their sights. Shahabuddin, whose signature appears on the export orders, was already one of the "big fish" in this investigation, and doubly so now that he had taken the role of prime minister.