Pakistan on Thursday called yet again for a US apology for the NATO cross-border airstrike that killed two dozen of Pakistani soldiers last year, or else Islamabad won't consider reopening supply routes to foreign troops in Afghanistan.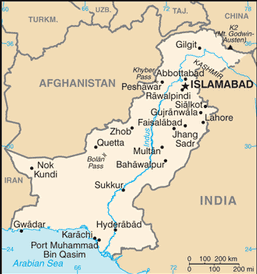 Pakistani Foreign Minister Hina Rabbani Khar, speaking to reporters while on a trip to the Afghan capital Kabul, also denied reports that Pakistan was haggling with the US over transportation fees for the supplies.
"Pakistan still wants an unconditional apology and the reassurance that the Salala type of incident does not happen again," she said, referring to the border area where the NATO strike took 24 lives unprovoked.
The Obama administration has been pushing Pakistan for months now to reopen the supply routes, but they have not let up. The closure has been very expensive for Washington, with recent reports saying it costs $100 million per month to use longer routes.
The relationship between the U.S. and Pakistan has been problematic for years, but lately it has taken on new attributes that liken the two to enemies instead of reluctant partners.
The U.S. drone strikes, the espionage and infiltration, and the killing of 24 Pakistani soldiers have all contributed to the growing wrangle between Washington and Islamabad. And the Obama administration's recent diplomatic overtures to Pakistan's arch enemy, India, have made things even worse.
Just days after Defense Secretary Leon Panetta's trip to India earlier this month, UN human rights chief Navi Pillay met with Pakistani Prime Minister Yousaf Raza Gilani who claimed that the U.S. drone war violates human rights and Pakistani sovereignty. Pillay then immediately called for a UN investigation into civilian casualties in the U.S. drone war, something the Obama administration has tried very hard to avoid by lying about the true nature of the program and keeping it secret and run by the CIA, as opposed  to by the military where it might have to be held accountable.
The only conceivable reason for the Obama administration's refusal to publicly and formally apologize for the botched NATO airstrike is so that the campaigning Democrat doesn't seem weak in front of hawkish Republican opponents. But such stubborn politics is leading to an increasingly destructive diplomatic relationship.