Sixteen people were killed today in the Balochistan Province capital of Quetta when a bomb-loaded bicycle was detonated in front of a major religious school, which was holding a graduation ceremony.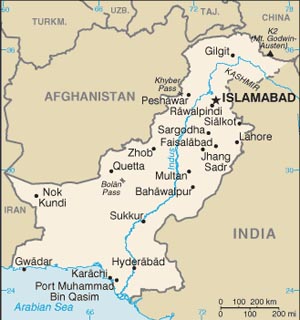 Among the slain were at least five children, between the ages of six and eight. Three of those slain were nephews of Senator Maulana Ghafoor Haideri, the chief of the religious Jamiat Ulema-e Islam (JUI) Party. An estimated 50 others were wounded.
Police say that the bomb was a timed explosive, and went off just after the ceremony had ended. The bicycle was loaded with flowers and garlands, apparently with the hope that it would be taken inside. If it had been, the death toll likely would have been in the hundreds, and not the teens.
So far there has been no claim of responsibility for the attack, but eyes are being turned suspiciously toward Balochistani separatist factions. Police say that there had been no intelligence indicating that the religious school was at risk.