As speculation continues to swirl around the bulldozing of a pair of sites on an Iranian military base, IAEA Chief Amano Yukiya added his two cents today, speculating that they might be "cleaning away traces" from a rumored 2003 nuclear test.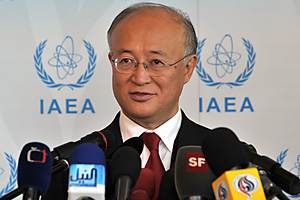 Intelligence agencies believe Iran had a very rudimentary nuclear weapons program back then, and abandoned it at about this time. There's no real evidence that the 2003 test ever happened, however.
Despite this lack of evidence, and that Amano's suspicions were apparently just his own guess at what is happening, he said that he is seeking "clarification" from Iran on the possibility, and is continuing to demand access to the Parchin military base.
Parchin has been at the center of a number of Western demands, but Iran is under no obligation to grant the IAEA access to it under the safeguards agreement. Iranian officials have expressed concern in the past that IAEA inspectors have leaked data on their visits, and are reluctant to grant additional access to a key military facility, which could potentially be used as a fact-finding mission for Western nations about Iran's conventional arsenal.