Backed by US advisers and drone support, Yemeni ground troops continue to attack targets inside the southern province of Abyan, reporting another 21 "al-Qaeda militants" killed today in attacks against multiple cities.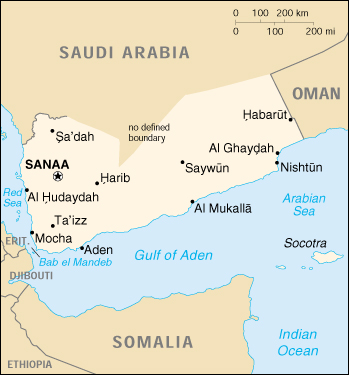 The Abyan Province was taken over by a group calling itself Ansar al-Sharia in June 2011, and Yemeni troops have been attacking it ever since. Official Yemeni statements don't acknowledge the difference between militant factions, and refer to them all as "al-Qaeda."
Yemeni ruler Major General Abd-Rabbu Mansour Hadi cheered the offensive again today in comments, saying that he believes that the military will have "cleansed" the Abyan capital of Zinjibar, as well as the other key towns, within a matter of days. Previous predictions of victory have not borne out, and Ansar al-Sharia has managed to launch huge counter-offensives in response.
Though official Yemeni statements haven't acknowledged any civilian casualties, Hadi is under growing pressure from religious scholars in the nation to resolve the situation soon, warning that the offensive was turning into a "bloodbath" and turning more and more of the locals into supporters of the secessionist faction.